House style
The RuG TeX installation includes classfiles for the house style:
rug15letter.cls for letters (staff only)
rug15pres.cls for presentations
rug15beamer.cls a beamer-based presentation style. This is only a loose approximation of the house style.
rug08- and rug07 versions of the above, but without documentation, for compiling old documents
For documentation, see the House style menu of the launcher.
2015 update
Changes:
Implementation of the new options for house style PowerPoint slides, i.e. a space-saving option for a small RUG logo and narrow slide header, an option for wide-screen displays and an option for an additional logo.
No automatic loading of Babel because in some cases automatic loading of Babel may get in the way, e.g. if the language of a document is not Dutch or English.
rug15pres: incompatible syntax changes; see the manual.
Reorganized documentation: one A4-sized manual each for the presentation classes and for the letter class.
2014 update
Changes:
rug08beamer: options for font size: 11pt, 12pt and 14pt. The default is 12pt. Use 14pt to match the old font size.
rug08letter: letterhead now in RuG red
Reorganized documentation: each classfile has its own manual.
The Debian/Ubuntu package is no longer available.
2012 update
Changes:
A few bug fixes and enhancements for the rug08pres class; see the package documentation
Various formerly required packages are now optional. This makes the package somewhat usable on a barebones LaTeX system.
XeLaTeX/LuaLaTeX now use the same system fonts as their MS Office counterparts. However, these engines require a fairly recent version of TeX Live to work right.
Getting the files
The UWP edition of TeX Live already includes the house style classes.
For home installation, the root of our TeX Live installation contains a zipfile with everything you need for the two RUG presentation classes. You can access this root from the launcher by clicking File / Browse TeX Live Installation.
If this is not convenient, or you are a staff member and want the RUG letter class as well, you can send me an email; see the Contact Info page.
Integrating into an existing TeX installation
The archive already has the right directory structure: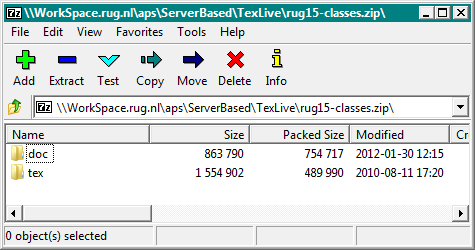 TeX Live: Unpack the archive in your private texmf tree:

Windows: c:\Users\<your user name>\texmf
Linux/Unix: ~/texmf
MacTeX edition of TeX Live: ~/Library/texmf

You can also unpack in the texmf-local tree of your TeX installation, but this tree uses a filename database. You can create or update this database by issuing a command mktexlsr (or, under Linux/Unix, maybe sudo mktexlsr) on the command-line, or, with TeX Live Manager, Actions / Update filename database.
MiKTeX: It is easiest to unzip into a new directory, e.g. c:\rug15. Next, click Start / Programs / MiKTeX 2.x / Maintenance / Settings, and click the Roots tab. With the Add button, add the directory to which you just extracted rug15.zip.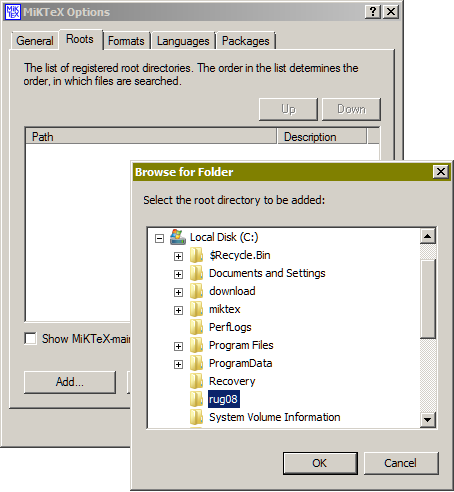 RuG TeX pages last revised on December 8 2016